Kemai MD-1909BT USB/SD/MP3/Bluetooth Wireless Retro Radio – Gold

Description:
A Modern Radio with an Old Face. Wonderful retro design with all the functions of our time and the new Gadgets.
Rechargeable with the simple charger of your mobile phone, it also works with a cable in the power supply, but even when there is no possibility of both, you can use it with simple batteries.
Small portable and practical so you can take it with you!
Combines the vintage style of a classic radio with modern technology and has USB, microSD, aux inputs.
You can connect your mobile phone or laptop to Bluetooth and listen to your favorite music.
It has an aux input to connect your tablet to the corresponding cable (not included).
It has an external antenna so you can have a stable and strong signal wherever you are.
It has a built-in rechargeable battery but you can also use UM-1 batteries (not included).
You can plug it into your home socket with a cable.
It even charges from any charger with a USB  (the cable is not included).
Features:
FM / AM / SW 3 Bands
USB Port
TF card slot
AUX input
Bluetooth Function (device name: BT-888)
Rechargeable Battery
High Sensitivity Antenna
AC: 220V / 50 Hz
DC power supply
DC: 5V
Battery: UM1x3 (not included)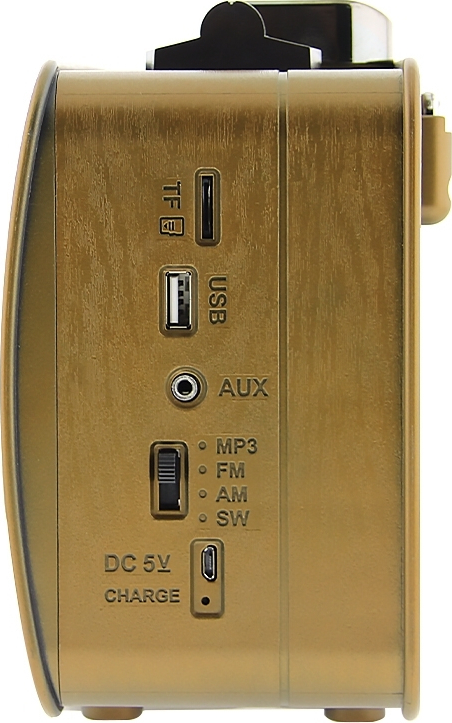 Package Includes:
1x Kemai MD1909BT
1x rechargeable battery
1x Power supply