Led Flashlight TD-T18

Characteristics:
2 LED lamps that offer
2 types of lighting in 2 colors: cold white and blue Ideal for fishing, hunting, routine patrols, exploration or hiking, camping, cycling, home, and garden, etc.
Power: 100W
Battery Type: LI-ION
Charging time: 7-10 hours
Blue lighting suitable for hunting
Side panel 16LED cold white light
Lumens: 5500 Lm
Operating temperatures: ~ -10 – 45 ° C
Humidity: 90 maximum 90%
Functions:
3 high / low/intermittent lighting modes with white light activated by the first button on the handle 2 functions
With the flashing lens on the handle with blue light, designed in the water, it can attract fish or be an aid for placing the tips.
With the side panel with cool white LEDs.
These two phases are activated by successively pressing the second button on the handle.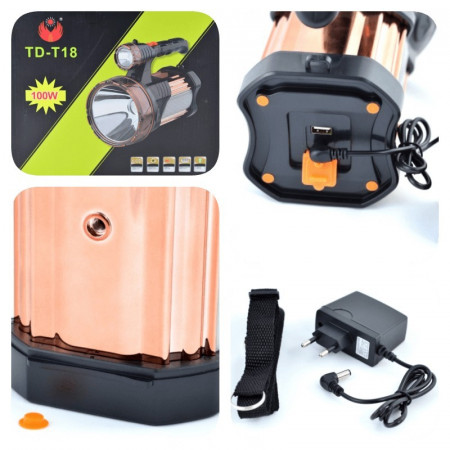 The package includes:
1 x Flashlight
1 x Carry belt
1 x Charger