Paint Roller Clever Paintbrush Quick Painting Brushes
Description :
Paint Roller Clever Paintbrush
The perfect tool for paintwork!
Saving you time & mess.
Painting tools that will provide hassle-free painting results minus the mess and stress.
This handy roller can cover up to 30 square meters of wall space .
The paint is stored inside the roller, removing the need for trays or going up and down ladders to refill.
Do not use watery paint or add water to paint (will cause dripping if too watery)
Add 3/4 full and not full to paint refill part.
Paint roller kit/paint runner set /paint roller brush kit /paint roller brush set wall painting tool to reach the height you can't get.
Paint roller for painting wall, door, floor, and other large surfaces.
Flocked edger for painting door frames, window sills, or other narrow surfaces.
Corner cutter painter for painting corners or edges.
The roller is good for 1-2 times usage, the sponge may wear off depending on usage or washing procedure
Always dip the roller in the water when not using.
Rinse the roller during washing, do not use strength to rub against a sponge.
Dip the roller in the water when stop using it.
If the paint dries and sticks on the roller, may damage the roller sponge.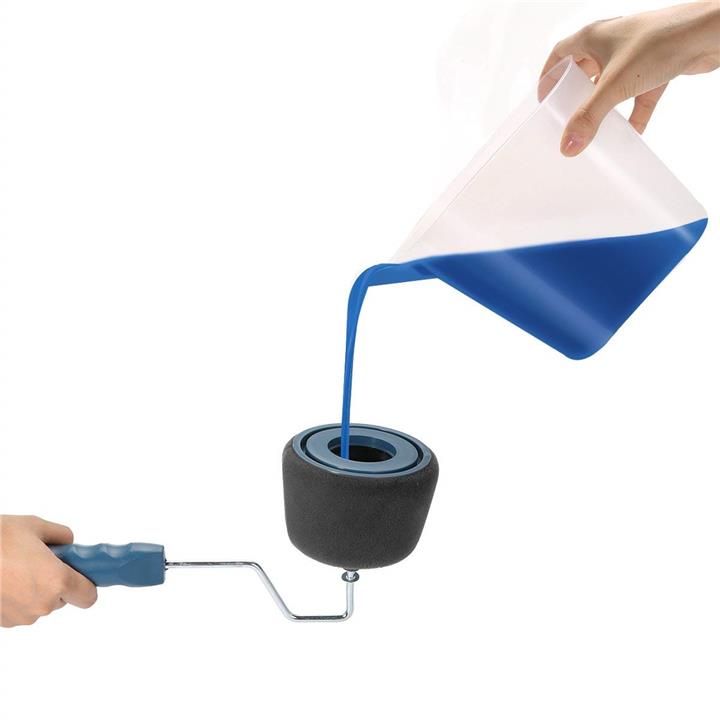 Package Includes:
1 x Paint Roller
1 x Flocked Edger
1 x Corner Pad
1 x Resting Tray
1 x Easy pour jug
1 x Pipe