Rechargeable Powerful Sound Quality HAPPY SHEEP HP-118 Hear the World Hearing AID & Hearing Solution 30 Hours Working Light Weight
This Hearing Aid – Bionic Eaearing AID can also be used as a hearing aid because it increases the sharpness of sound in a person with normal hearing and helps when there is a hearing problem.
Hearing Aid – Hearing Aid, the most reliable financial solution for hearing impaired.
These hearing aids – hearing aids are ergonomically functional!
The advantage over the other handsets is that it is rechargeable (with built-in rechargeable battery) with autonomy for continuous use of 30 hours!
The built-in rechargeable battery ensures you unlimited savings as you won't have to pay as little for batteries as other common headphones!
For those who have normal hearing with the bionic ear, nothing is secret as they will hear sounds 20 times louder (30 meters whispers)!
The ideal device that enhances the acuity of sound in a person with normal hearing and aids when there is a problem.
The elderly will use it as a hearing aid in their daily lives, watching television, theater, discussing or talking on the phone, students – students in the auditoriums when there is no good audio, the mother will listen to the children in the other room.
Nature lovers – hunters – climbers will enjoy sounds of nature that are impossible to hear with the naked ear, leaf twitching, the clearing of water, the breath of animals will take them to another dimension!
Also a great solution for listening to the television at night without bothering, watching speeches, listening better in public places, theaters, churches etc.
Features:
Hearing aid – bionic ear.
It comes in 4 different sizes (suction cups) to fit any ear size.
It has an audio sensitivity control.
It has volume control.
Easy mounting support to any ear.
Small size.
Very light.
Easy to hold on any ear.
Ideal for those with hearing problems.
Ideal for listening to television without disturbing others.
ON-OFF switch.
Works with a built-in rechargeable battery
We can hear whispers from a distance of 30 meters.
Up to 30 hours of continuous operation
This tiny electronic device is a powerful headset that listens to everything.
Even tossing the pin or walking the cat.
Ideal for: seniors, college students, mothers, nature-hunters-climbers, etc.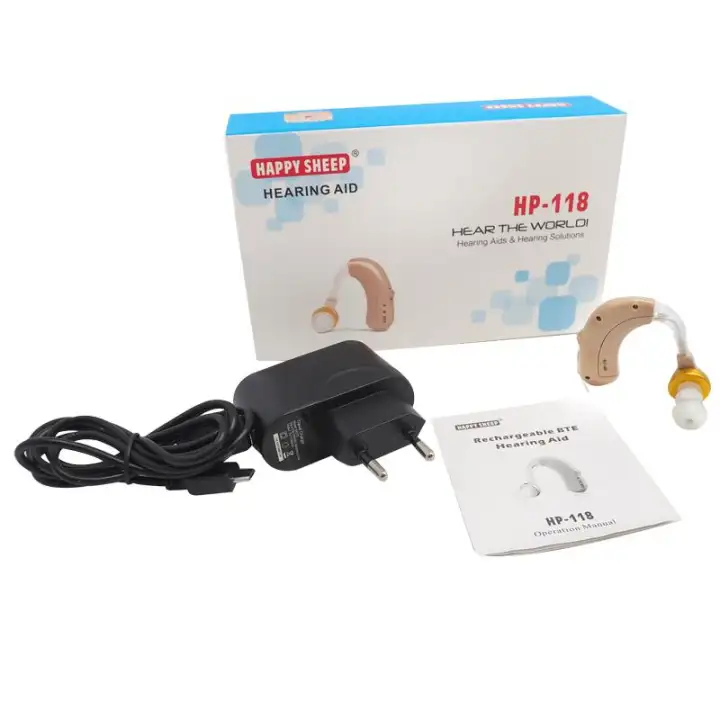 Package includes:
1x Hearing AID HP-118
1x DC Adaptor
1x USB cable
4x different size covers
1x User manual