Solar Car Cooler Rechargeable Window Air Cooler – OEM – MX-8802 (Black)
Features:
Double duct and double motor design improve the exhaust speed effectively.
Solar and battery switch control, can control the solar battery used separately.
Solar recharge display, two motors controlled by one switch.
Built-in high capacity rechargeable batteries, keep the motor smooth.
Temperature display, the temperature change inside the car can be observed directly.
Outer solar panels, multi-angle adjustable, can effectively absorb sunlight.
Sustainable use on the rainy day can eliminate harmful materials such as smoke inside the car.
Simple installation and strong practicability
In the case of not using the battery, but also directly rely on solar energy to absorb sunlight to convert into electricity, so that the fan operation
Specifications
Material: ABS
Color: White
Size: 16.6(L) x 7.2(W) x10.2 (H) cm /6.54 x 2.83 x 4.02inch
Installation step:
the window down from the window on the first place, outside the short rubber strip
Put on the rechargeable solar car radiator
Trim the long rubber line with window length and placed
To the inside of the door the radiator under pressure by the window
Hand on the radiator, slowly close the window frame edge of the positioning groove of the rubber strip
Adjust the panels make it on to the sun, and in accordance with the incident angle adjustment of solar panels.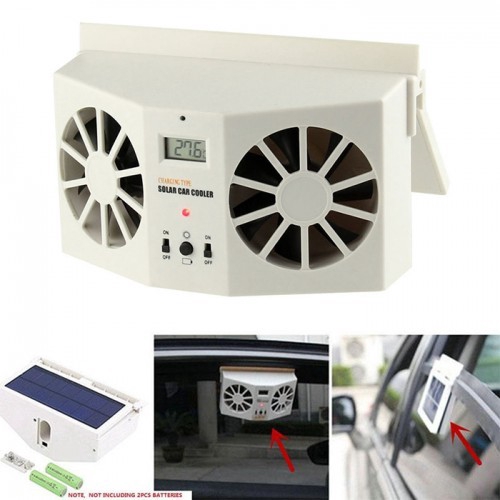 Contents
:
1 x Solar Car Cooler
2 x Rubber sealing strip

1 x User Manual