CAR Bluetooth, multimedia, SD Card, USB, AUX, MP3, WMA, Xplod Car Sound System CDX-7613BT With Remote Control, Car Radio Stereo 4 x 50 W
Car Radio with Bluetooth, USB input, AUX and one for microSD, to listen to any music that you want in size MP3 on a microSD card, pen drive or by connecting directly to a device Bluetooth or with the AUX cable.
N.B. The Car is not equipped with a CD-ROM player.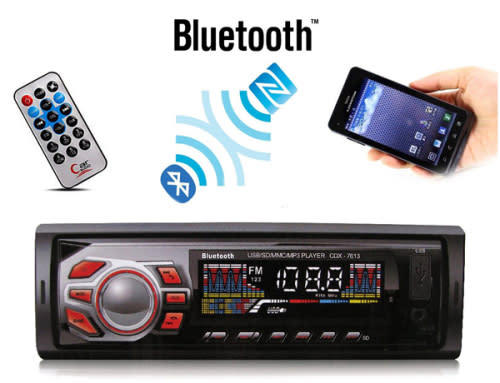 Features:
Car Radio Stereo FM MP3
Connection: Bluetooth
Inputs: USB/SD/AUX
Power Supply: 12 V
Digital LCD Display
Reading formats: Audio/MP3
Faceplate not Removable
Specifications:
Entire: SNR 65db
Frequency:20Hz~20KHz
Output:  Audio output
Tone control:
bass 100Hz
Treble 100Hz
Power amplifier
Output:  loudspeaker output
Loudspeaker impedance: 4~8 Ohm
Maximum power input:  4 x 50W
FM frequency:
87.5MHz~108.0MHz (EU)
87.5MHz~107.9 MHz (USA)
Terminal antenna: external antenna connector
Medium frequency:  10MHz
Sensitivity:  22db
SNR:  60db
Distortion (1KHz):  < 1%
Frequency response:  30Hz~15KHz
AM (Optional):
Frequency range:
522-1620KHz (EU)
530KHz-1710KHz (USA)
IF range  450KHz
Usable sensitivity (-20db):  25db
Package includes:
1 x Car Radio/Media Player
1 x Connecting cables (Power, etc)
1 x Remote Control
1 x Instruction Manual