Live Sound Card V8 Pro Audio Microphone Webcast for Phone, Computer RM180
Description:
Many Kinds Of Sound Effects: 12 kinds of sound effects are available, each sound effect will bring you different surprises.
Magic Sound Changer: male voice, female voice, baby sound,Electro-Audio Easy Switching, Professional Voice changer.
Durable And Portable: Compact structure and durable metal housing can be used in different locations for your convenience.
Strong Compatibility: It's great to support Android Apple devices, mobile phones, computers, PS4, and other games to change your voice.
Compatible with Multiple Devices, Multiple Live Platforms: The live sound card is compatible with multiple devices, Android/Apple/tablet/laptop, multiple live platforms.
You can do various Anchor at any time and anywhere, Video game anchor, Outdoor anchor, YouTube anchor, Ind
Dodge Effect – Intelligent recognize the human voice, will reduce the volume of the music.
Shock-wave Effect – Highlight the human voice and make the sound loud and shocking.
Ear Return – Real-time monitoring, you can hear your own voice effectively.
Multiple Devices Connection Support single mobile phone live, dual mobile phone live, mobile broadcast computer accompaniment, etc.
Compatible with IOS and Android cellphones, tablets, computers, speakers, headphones, etc.
For Singing/Karaoke One key to Karaoke, lower the voice. Adjustable echo reverberation with multi-levels, make your sound with high performance.
For Recording, Voice Chatting Comes with live acoustic effects and background accompaniment introduction, shock-wave effect highlight the human voice when recording.
For Live Broadcasting One-key to make field noise, you can interact with fans without pressure. Compatible with most major mainstream K song software.
Long Working Time – Built-in rechargeable 1200mAh lithium battery – Can work continuously for 6 hours after fully charged.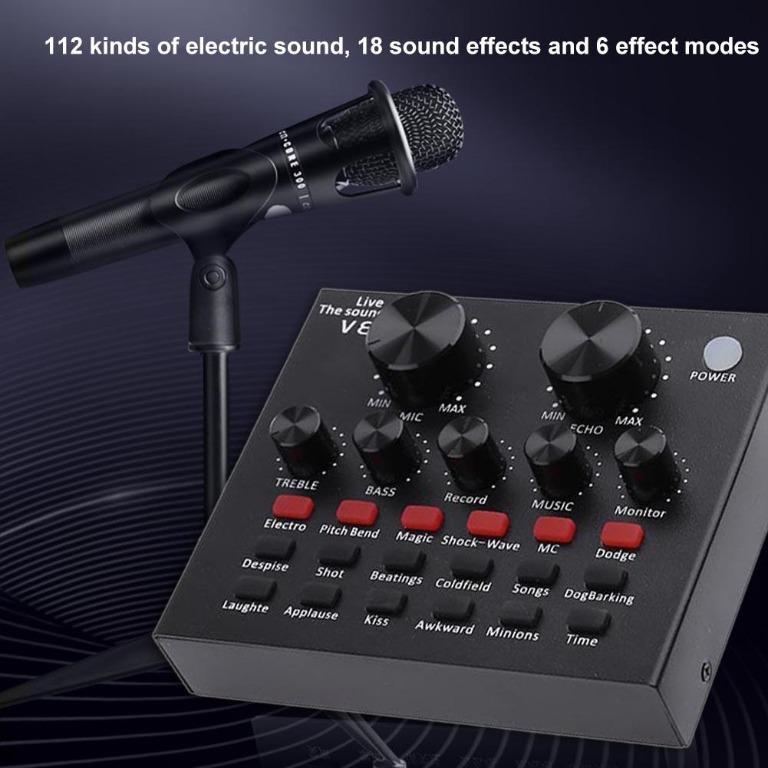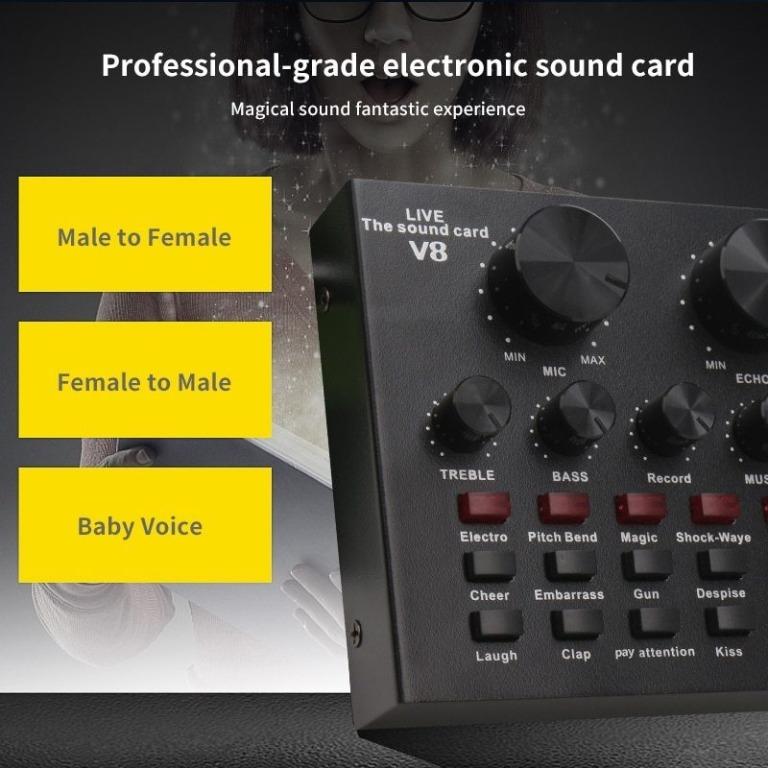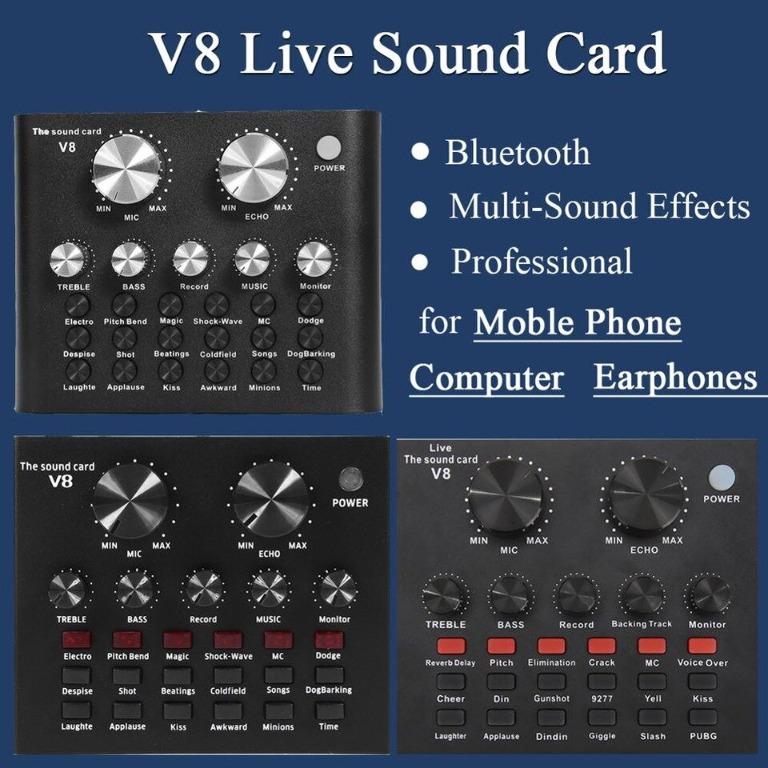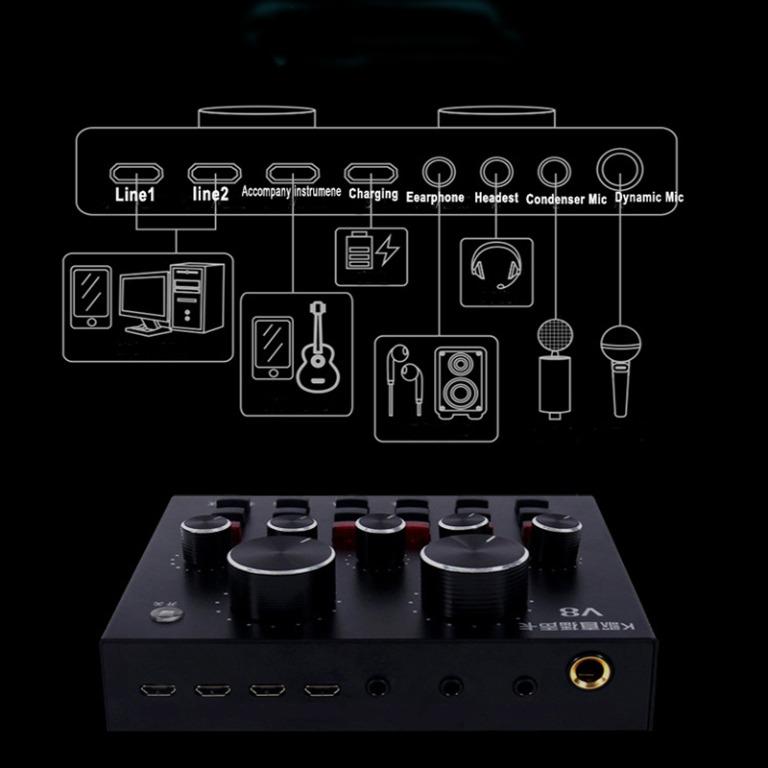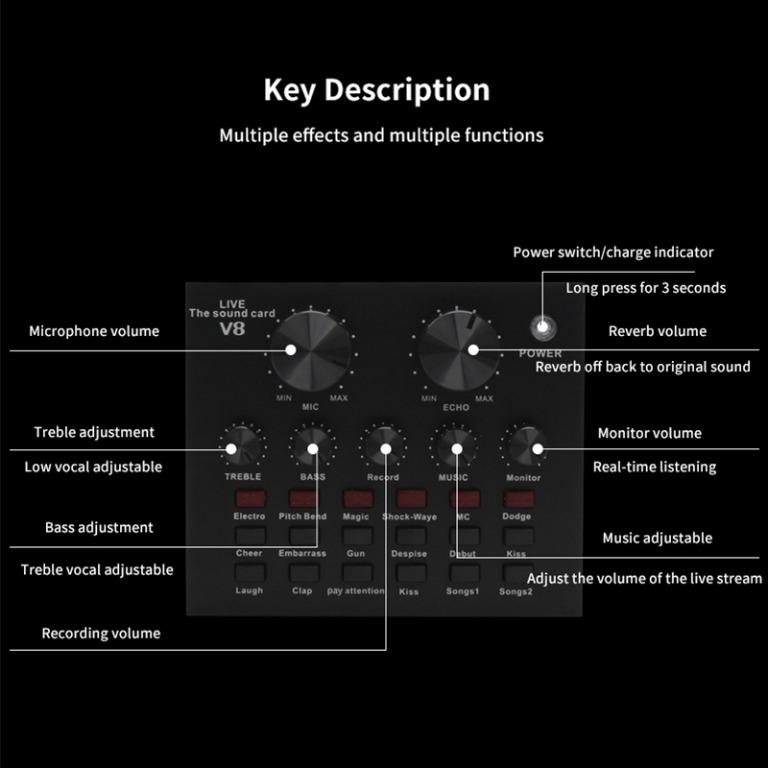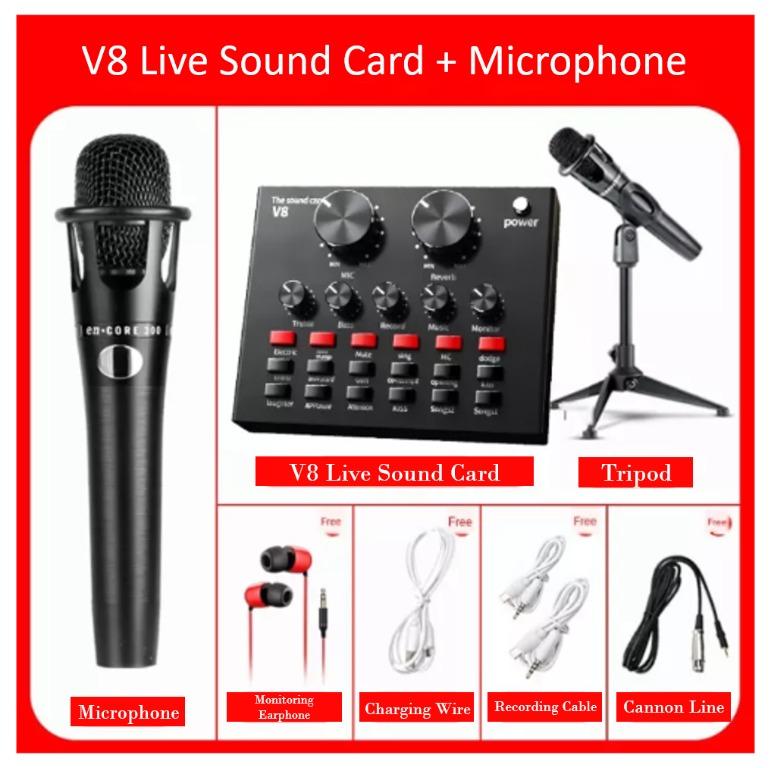 Package Includes:
1 x V8 Sound Card
1 x E300 Cardioid Condenser Performance Microphone
1 x Mic Holder x1 Earphone
1 x Micro USB to 3.5mm Male Cable
2 x USB Charging Cable
1 x User Manual
1 x Casing